"Creativity is our gift from God and using our creativity is our gift back." Julia Cameron, 'The Artists Way.'
The spark of life, for life is deep within every being. A seed just waiting to be nourished by experiences and watered by the flow of emotions that pour through us. The seed grows, hungry to express itself in a multitude of colours and forms, each one powerful in its own unique way. Whether it's a musical jam, a new painting or a simple poem, creativity is a living, breathing force we dance with every day.
Sometimes we're in perfect rhythm swaying in profound harmony and at other times, we're out of sync and just seem to be stepping on our own toes. However it's flowing, it's a dance artists of every guise are compelled to be a part of.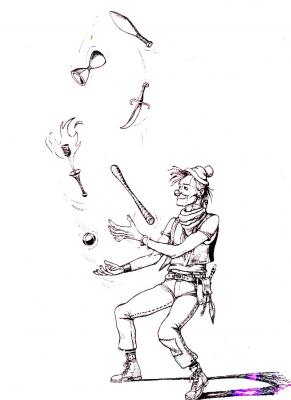 I've heard that the lay lines are strong here. I've seen the writers seeking the solitude of the mountains. I've heard that the sea attracts sensitive souls. I've seen the dancers burst into life at fiestas. Whatever the reason, this province is teeming with people who didn't want to back stab and compete in the artistic mainstream but could never leave their Art, their Chispa.
I live amongst the international crew of people that have been drawn to this area for one reason or another and the local people who have their roots in this soil. They inspire me. They inspire me to continue carving the middle way between a respect for the earth and a respect for my own needs. Between a life beyond coca-cola and a life that can positively embrace the age I live in. They inspire me to honor my creative journey without selling my soul because I see this happening all around me. It may be the tree lined mule track which remains free from concrete by the skin of its teeth or the performance of a local band. It may be the children clapping out rhythms in the ally ways or a photography exhibition on village life. It may be the tradition of fiesta, the alternative festivals, the sound of the sea, the slower pace of life, the rich history and culture of this land and the openness of the people which all combine to create the music for this never ending dance of creativity!
Here at La Chispa we are going to be celebrating, exploring, reviewing and advertising the weird and wonderful world of the Artists of Andalusia! From early next year we will be dedicating a whole section of La Chispa to arts and culture. We want to print your work, hear your stories, review your performances and make connections between artists and entertainment organizers. We want to make sure that you can find the creative course you're looking for and that you know what's available on a creative level for your children. We want to highlight grass roots arts of every genre and encourage a healthy economy to support them. (We know that contrary to popular belief, artists need to eat too!)
Watch this space for further information. Feel free to begin sending in your writing, (short stories – up to 2000 words) your performance information, an outline of your creative course, your inspiration, your chispa!
FREE WRITING
Free writing is taking any topic and writing on it for a specified amount of time, could be 5 minutes or it could be an hour.
Free Writing Rules:
1 – Keep your hand moving
2 – Don't cross things out
3 – Ignore spelling and grammer
4 – Don't think.
5 – Follow your fear
Have fun – you never know, there may be a writer inside you just waiting to burst out!
This post is also available in: Spanish